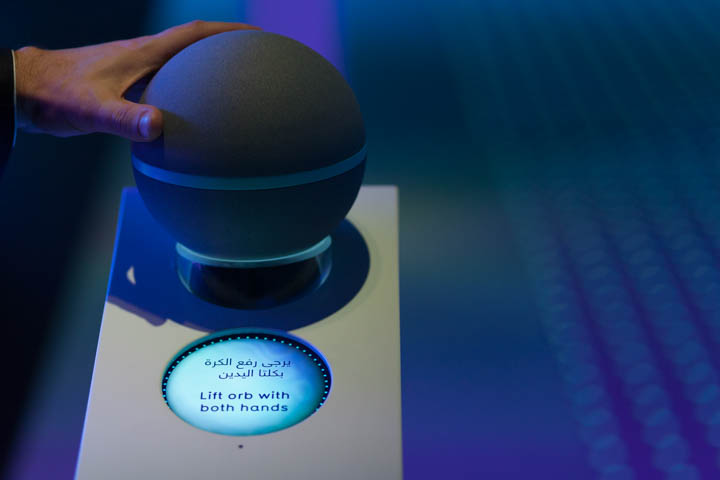 FITZANIA
2015 | Interactive Installation
Created in collaboration with Tellart for the Office of The Prime Minister, Dubai, UAE
Part immersive game, part preventative medicine check-up, the Fitzania installation at the Museum of Future Government Services explores ways of making healthcare a more personalized, accessible, enjoyable part of everyday life.
EXPERIENCE
The orb vibrates, acknowledging successful log-in as you lift it from the pedestal. Stepping into the game space you complete a series of spatial alignments, increasing in speed and difficulty. As you position the orb in 3D space, Fitzania's advanced sensors analyze your bio-metric signals providing on the spot diagnosis and updating your personal fitness profile. All tests complete, you return the orb to receive a prescription tailored to your needs.
PROCESS
We collaborated with exhibition creative and production director Tellart on research, technology, and design of Fitzania. The goal was to determine a solution for conducting regular fitness tests where citizens would be encouraged to return again and again. Our solution took the form of a game surrounding the check up, where the analysis and diagnosis happens naturally during a fun and immersive game.
Fitzania's interaction is driven through a unique tracking system. Each orb is treated with Halo retro-reflective coatings to allow the sensors to determine their precise location in 3-dimensional space. The data is mapped into a virtual space that extends beyond the physical walls, enabling the viewer to interact with the game world.
CREDITS
The 2015 Museum of Future Government Services is a project by the Prime Minister's Office of the UAE directed by Tellart with an international team of top design studios including Scatter, SOFTlab, Bompas & Parr, Octo, Idee und Klang, and Future Cities Catapult.
The onsite build and installation was done by Tellart in collaboration with Publicis Live, Neumann Miller and Projex.

INTERNAL TEAM, FITZANIA
James George - Technical Direction
Alexander Porter - Physical Design Direction
Mei-Ling Wong - Head of Production
Arturo Echeverria - Design
Charlie Whitney - Creative Code
Freckless - Video Documentation Editing